What Type of Mattress is the Most Supportive?
October 17, 2022  ·  7 min read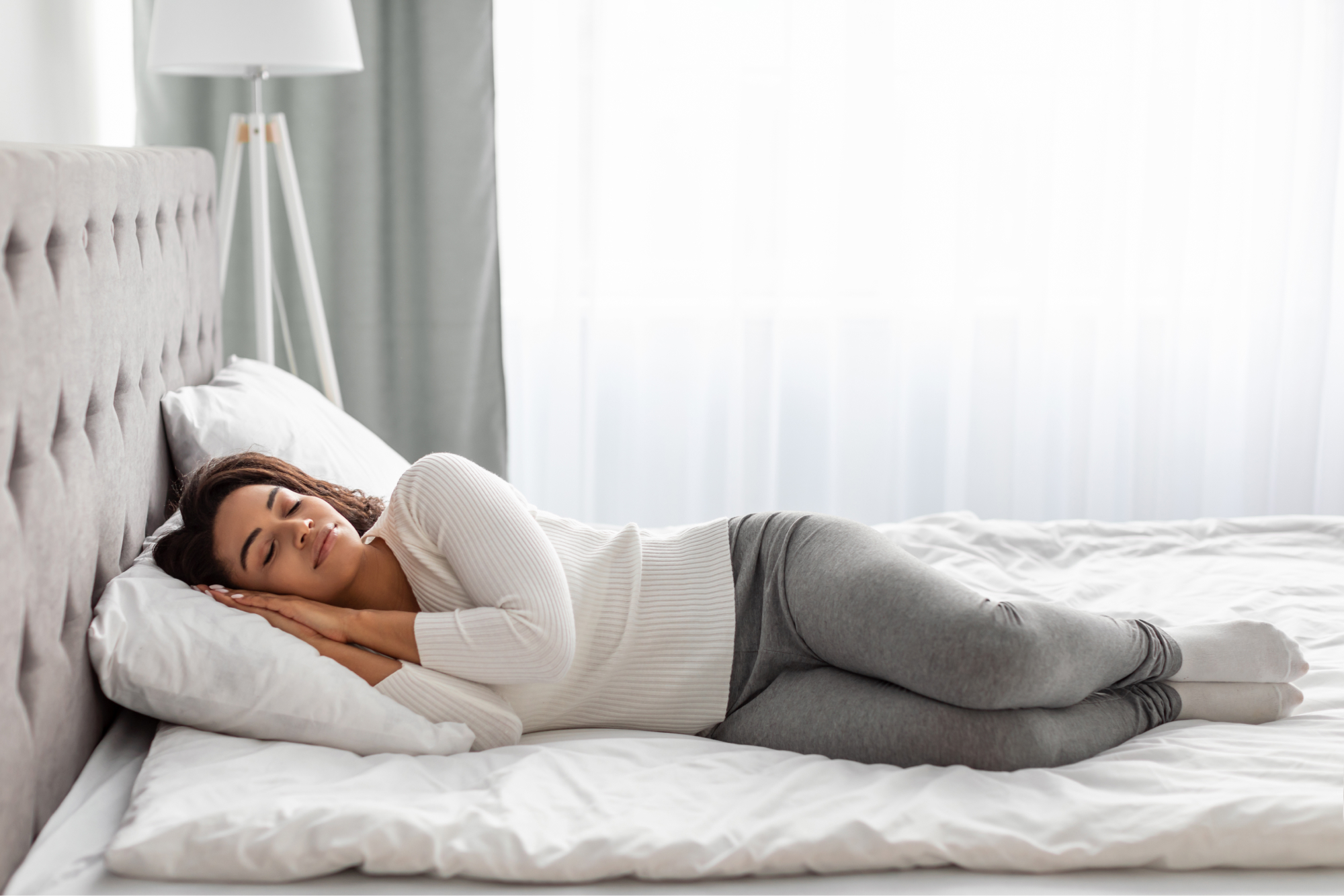 These days, proper mattress support can be difficult to come by — so how do you find the most supportive mattress for you? Buying a bed with the proper support can make all the difference in your sleep quality. Unfortunately, many sleepers make the mistake of buying a mattress simply because it feels comfortable while ignoring the foundation of the mattress itself: the support system. 
The experts at Texas Mattress Makers are here to explain the importance of proper mattress support, showcase what types of mattresses are typically the most supportive, and share tips for how to find the most supportive mattress for your needs. 
Why proper mattress support is important 
Better support equals better comfort which results in better sleep.
Think of a mattress's support system as the foundation of a house. Even if your house is made with great materials on the outside, low-quality materials in the foundation will cause it to crumble. Now, imagine what an unsupportive mattress will do to your body. Spoiler alert: aches and pains!
The job of supportive components in a mattress is to support the comfort layers — so that they can perform properly — as well as the sleeper's body weight. A supportive mattress should be able to fill in the gaps between your body and the mattress. This means that the mattress can withstand your weight properly as you sleep throughout the night, regardless of sleep positions or firmness levels. 
Here is our founder Youval Meicler explaining the importance of proper mattress support and how he, and the other experts at Texas Mattress Makers, can help you to find the most supportive mattress for you.
What type of mattress is the most supportive?
The quick answer to this question is whichever mattress will suit your specific needs. We say this phrase frequently because it is the absolute truth. There is not one type of mattress that will be best suited to support every person. Mattresses are not one size fits all, meaning that what works best for someone else may not work for you. 
Which type of mattress is best for back support?
There are a few misconceptions that we need to clear up surrounding this question.
Misconception: One type of mattress is best for back support. Wrong! There is not one singular mattress type that will provide back support for the masses. Whether it's a hybrid mattress or a memory foam mattress, at the end of the day, the best mattress type for back support is one that will promote healthy spinal alignment and will keep your body comfortable and supportive.


Misconception: Firm beds are best for back support. So, are firmer beds better for your back? They can be if that is what would suit your body best. You see, there is a difference between a firm feel and a supportive mattress. If you hate firm beds, then you will not sleep well on one. It's as simple as that. You can find a supportive mattress that matches your comfort level preferences perfectly. No need to sleep on a stiff board if you don't want to.

Misconception: Only the back needs support. Many sleepers subscribe to the misconception that the back is the only area of the body that needs support. In reality, the back, the spine, the hips, the shoulders, under the knees…all of these areas need to be supported when you lie down on a mattress. 
How to find the most supportive mattress for you
Which type of mattress is best for body pain? What mattress will make me the most comfortable? When customers come to us with inquiries like these, we begin by asking them a series of questions about themselves and their sleep habits. The more our experts get to know you, the better they can recommend a supportive mattress that would best suit your needs. 
1. Know your sleep preferences
Questions we ask those who visit our showroom*: 
Q: What is your height, weight, and body type?
Men and women typically distribute weight differently on their bodies, so it's nice for us to be able to recommend a mattress that can best fit your body type.
Q: What are your preferred sleep positions? Do you sleep on your back, side, or stomach? Are you a combination sleeper? 
Knowing how your body lays when you sleep will help us to determine which areas of the body will need to be supported. For example, if you sleep on your side, we will recommend a mattress that will support your shoulders and hips while promoting healthy spinal alignment.
Q: What are your preferred firmness levels? Do you prefer plush, soft, medium, or firm? 
From there we can combine that support with a comfort level that fits your preferences. Supportive mattresses can be soft as well! 
Q: Do you have any aches or pains when you wake up in the morning?  If so, where?
Knowing if you have specific issues with your current mattress and sleep patterns will help us find out how your mattress is not supporting your individual body type and sleep preferences.
*You can also find questions like these and more in our Sleep Profile Quiz.
2. Look at the components
Knowing what your mattress is made of is crucial to finding the most supportive mattress. We carry different types of supportive components in our showrooms, including support coils, that can suit any sleeper's needs and budget. 
One of our most popular components is the Quantum coil, which has a reputation for being the most supportive coil in the industry. Mattresses that use Quantum coils are great for sleepers who prefer a medium-firm to firm mattress, sleepers with weight concerns, and sleepers with injuries.  And while this is a top-of-the-line material in terms of offering the highest level of support, it is not for everyone.  We make sure that we are not selling you something because it is the "best" and will raise the cost of your investment.  We truly believe you should buy what is best for you.
Comfort components can also have support benefits. Our high-resilience foam is a more durable and supportive foam component for those who prefer the cushion of foam but don't want to feel like they are sinking into the mattress. However, the best supportive component for you will all depend on your specific needs. 
3. Try the mattress in person
Would you buy a car without test-driving it? Of course not! The same principle applies to beds. You should always try before you buy a mattress to ensure that the mattress feels and performs exactly to your liking. If you skip this step, you may end up paying a great deal of money for a mattress that you don't even love!
We have multiple Houston-area showrooms that are filled with a variety of different mattresses for you to try in person. Our experts are well-versed in the components used in the production process because we manufacture every mattress that we sell in our showrooms. With their expertise and the knowledge provided about your unique sleeping habits and preferences, they will be able to help you choose the most supportive mattress that will last you a lifetime. 
Find a Quality Mattress with Proper Mattress Support at Texas Mattress Makers
Obtaining a bed that provides proper mattress support all depends on what you need from a mattress. Texas Mattress Makers sells the most supportive mattresses in Houston for a better price than other large retailers. If you want the highest-quality mattress made with the top support and comfort components in the industry, you need to visit a Texas Mattress Makers showroom and meet with one of our experts.
Stop by any of our showroom locations to find your dream mattress for your specific needs.
More Helpful Articles by Texas Mattress Makers:
Get More From Your Mattress (and your money)
Sign up for Email Updates!