Is an Adjustable Memory Foam Mattress Right for You?
February 8, 2022  ·  5 min read
A basic memory foam mattress can be beneficial for sleepers who need help relieving pressure as they sleep, but an adjustable memory foam mattress can offer you more benefits. Given how critical sleep is to our health, a bed is so much more than just a surface for sleeping. With people spending more time indoors and working from home, you may find yourself needing more from your bed. Let's face it, your couch may offer the same comfort and support that your mattress does. If you are looking for a place to relax, work, and sleep all in one, an adjustable memory foam mattress* may be the right choice for you.
*Texas Mattress Makers offers adjustable bases that can be compatible with select mattresses. Please see our adjustable-friendly mattress page for more information.
The benefits of an adjustable memory foam mattress
At Texas Mattress Makers, we want you to achieve the best night's rest regardless of your unique sleeping needs or situation. Here are a few reasons why adding an adjustable base to your memory foam mattress may be the right fit for you. 
Can be adjusted to your preferred position
One of the biggest benefits of adjustable bed frames is the ability to adjust your mattress to the exact position that you want for any situation. Do you like to prop your feet up while you watch TV? Do you wish to raise your head and neck to read in bed? These are all possible with an adjustable bed frame. The ability to raise and lower the head and foot of your mattress base can also give you the flexibility to find the best sleeping position for you. This way, you can get optimal comfort and support anytime you want to use your bed. 
Can satisfy an array of sleep needs
Adjustable beds can be worth the extra cost, especially for individuals struggling with edema, sleep apnea, or acid reflux. For most of these individuals, the standard flat surface of a mattress does not suit their specific needs. Those struggling with acid reflux need to sleep at an incline with their heads raised to minimize symptoms as they snooze. Similarly, anyone who has sleep apnea may be keeping partners awake. An adjustable mattress allows you to sleep soundly in a position that is comfortable and helpful.
Can be beneficial to a wide variety of sleepers
An adjustable memory foam mattress can be useful for relieving pressure in your joints, providing minimal partner disturbance, accommodating to every sleeping position, and allowing you to work, relax, and sleep comfortably. Regardless of your age or comfort preference, your bed can be a place for relaxation and productivity with an adjustable memory foam mattress. 
Adjustable beds allow you to try new sleeping positions or customize how your bed functions without investing in an entirely new base. They can help you achieve many different goals to satisfy your unique sleep needs. We offer adjustable-friendly mattresses and adjustable bases, complete with massage functions and a voice-activated app without too much extra cost. 
Texas Mattress Makers carries adjustable memory foam mattresses
At Texas Mattress Makers, we believe that every memory foam mattress lover should have the opportunity to customize how their bed moves and functions. Check out our amazing adjustable bases: 
The memory foam mattresses below are compatible with our adjustable frames.
Stomach and back-sleepers, meet our firmest memory foam mattress. The gel-infused memory foam responds to your body's needs and provides ultimate comfort and support for those who prefer an ultra-firm feel. 
This medium-firm mattress uses three premium layers of viscoelastic memory foam that is perfect for relieving pressure, pain and providing a cooling, comfortable surface for any sleeping position.
The Niagara Gel Plush features five luxurious layers of cooling memory foam that offer a medium feeling for balanced, pain-relieving support that helps you sleep soundly in any position.
For those who dream of sleeping on a cloud, the Lisbon Gel Memory Foam Mattress has an ultra-soft feel that offers ideal body contouring and support for side-and-back sleepers of all ages with four support layers.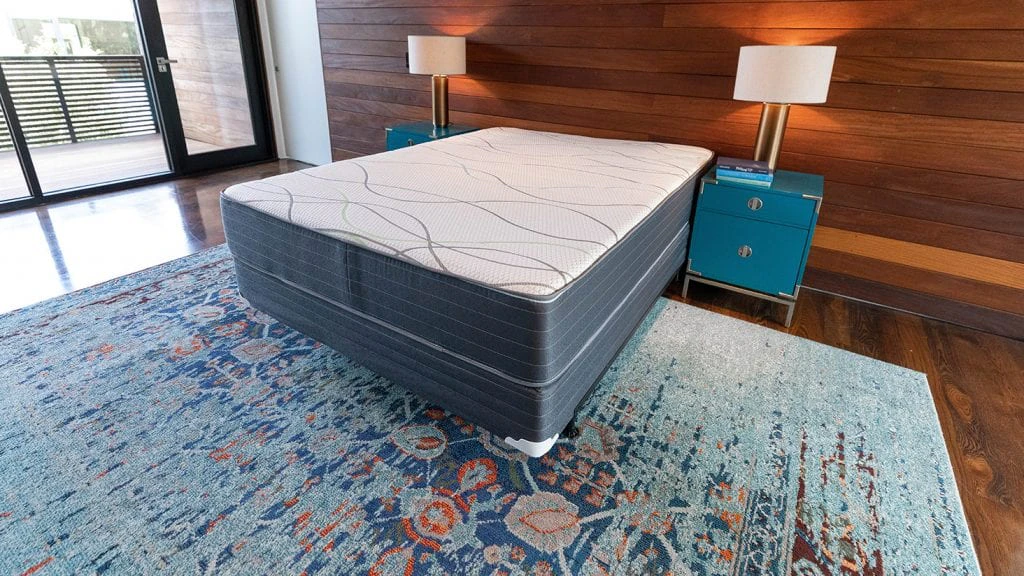 Get your desired comfort and support for less with this medium-soft, 7-inch memory foam mattress. This memory foam mattress features an open-cell base layer and a cooling gel-infused layer for cooling supportive comfort.
Shop Adjustable Memory Foam Mattresses at Texas Mattress Makers Today!
If you're wanting more out of your mattress, an adjustable memory foam mattress could be the next best thing to improve your quality of sleep and your quality of life. You can work, relax, and sleep in positions that suit you and your needs. It's important to note that not all mattresses are compatible with an adjustable bed frame –– so check out all of our adjustable friendly mattresses on our website to see which one could be a perfect fit for you. 
You can shop online by comfort level, mattress type, mattress size, and budget, or come and visit any of our convenient Houston-area locations today!
More Beducation by Texas Mattress Makers:
Get More From Your Mattress (and your money)
Sign up for Email Updates!