Sleep Benefits of Pocketed Coil Mattresses
December 19, 2017  ·  3 min read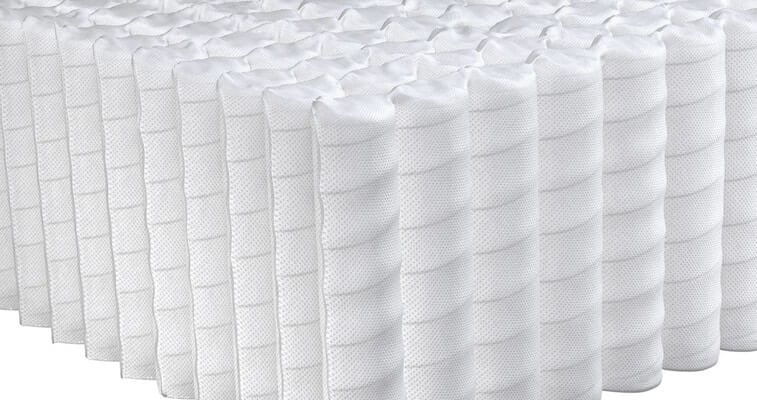 Everyone knows pocketed coils are a popular mattress type. However, it can be a bit of a challenge for many people to determine exactly why that is.
The Top 5 Sleep Benefits of Pocketed Coils
We made this handy list of top 5 ways in which pocketed coils help you get quality sleep to help you select the best mattress type for your best night's sleep.
1. Reduced Partner Disturbance
Another benefit of individually pocketed coils is the significant reduction of partner disturbance. Pocketed coils are individually encased so they each respond independently to pressure. Any movements you or your partner make during the night, such as adjusting your sleep position, are isolated to only the coils directly beneath you. This enables you and your partner to sleep more soundly throughout the night.
2. Complete Support
Each coil responds individually to the contours of the body, enabling them to fill into the gaps of your sleeping form. This provides the best adjustment for your sleeping form, enhancing your comfort by reducing pressure points while ensuring the ultimate posturizing support.
3. Optimal Comfort
Another benefit of the fabric encased coils is their ability to minimize pressure points for premium comfort.
4. Enhanced Durability
The fabric encased coils are more durable than simple innerspring designs. This pocketed coil design enables most pocketed coil units to last longer than many other mattress types.
Not all pocketed coil units are created equal. However, in general, the fabric encasement of the pocketed coils provides an additional layer of protection for the springs inside so your bed provides longer lasting comfort and support. The comfort layers above the pocketed coils tend to last longer inside a pocketed coil bed as well.
5. Cooler Sleep
Pocketed coils enable air to flow through the bed, creating a cooler sleep surface throughout the night. This creates a cooler sleep surface for deeper, more relaxing sleep.
Texas Mattress Makers
We are excited to share the Texas Mattress Makers experience and expertise with you through our website. If you have any questions about a mattress or its components, our experts are happy to help whether you buy from us or not. Call us at (713) 341-6252 – we're open 7 days a week in East Downtown Houston and Katy! Or, you can email us at [email protected] and we will be happy to answer any questions you have!
We are happy to help you as you explore your mattress options and provide the answers you want to know about sleep! Take our Mattress Quiz today to get a mattress recommendation by one of our experts!
Get More From Your Mattress (and your money)
Sign up for Email Updates!